We are currently out of stock.
Get finger launchers for summer camp, VBS or your next preteen/youth event! They're the perfect addition to your next gathering.


Preteens love games. They don't want to play kiddie games, but want something edgy and cool. Something just for them. Preteens also have a high energy level, so the more they move around the better. It's good for them to burn off some energy before a lesson too. You want games that help preteens build relationships and require minimal prep time. Bam! Finger launchers solve all those problems. They're tons of fun, preteen style, and require a high energy level to play. Play them just for fun or to burn off energy before a lesson. They're great for students to build relationships and require no prep time. Just add them to any preteen group for instant fun!
What Are Finger Launchers?
Finger Launchers are 9″ long by 1″ diameter foam projectiles that have 3 formed fins and shoot like a rubber band. Slip your finger through the ring, pull back on the soft foam rocket, release and watch it fly! They're lightweight, safe, durable and long-lasting – so they're a great investment for any preteen or youth group.
Why are Finger Launchers so cool?
Finger Launchers are cool because preteens & youth love them! They provide endless fun and relationship building at your upcoming event, camp, weekend/mid-week service, etc.
Game Pack Included
In additions to your finger launcher order, you get a game pack included with your purchase. The game pack includes some great ideas of how your group can have fun with finger launchers.
This girl is happy she got her Finger Launchers & your students will be too!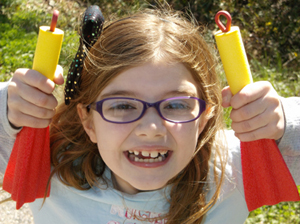 Finger Launchers come in 3 quantities. To purchase, click on the option you prefer. If you want more than a 100 pack, you can add more while in your shopping cart.
Get your Finger Launchers Now!
BUY 

10 PACK – $25
BUY 25 PACK – $55
BUY 50  PACK – $100
BUY 100 PACK – $199