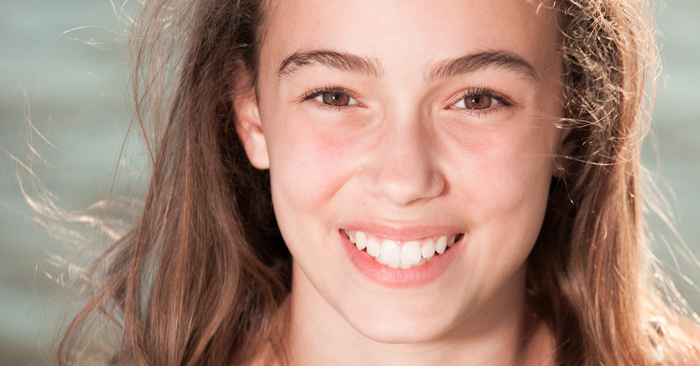 Preteen Bible Lesson: You're God's Masterpiece
It can be hard for preteens to see themselves with the same value that God has for them in Christ Jesus.
This lesson offers a healthy dose of encouragement to those who don't see themselves as the masterpieces that God created them to be!
As I look back on my preteen years, I wasn't the coolest kid in school. In fact, I was a bit on the nerdy side.
I had huge tinted glasses that were an inch thick, a mop style hair do, was embarrassingly uncoordinated, had braces that were bigger than my teeth, and was really skinny.
To say that I was self-conscience was an understatement. I struggled with feelings of inferiority for years.
But now, as a 40 year old, I embrace my nerdiness. I've come to love who God created me to be. Yeah, I regularly trip on my own feet, randomly break out and dance for no apparent reason in the grocery store embarrassing my kids, and annoy my family with a steady dose of corny jokes.
It's just who I am. It's who God created me to be. And I love it!
My hope is that this lesson will help the preteens in your ministry embrace who God made them to be too.
Enjoy!
Nick Diliberto, Preteen Ministry
Preteen Bible Lesson – Ephesians 2
DOWNLOAD THE PDF OF THIS LESSON
Bottom Line: The change God makes in our lives through Jesus doesn't just make us good. It makes us a masterpiece! Teach students about the transforming power of Jesus and the potential God sees in them, regardless of how they or others around them see themselves.
SUPPLIES
Print and cut "masterpiece" coloring pages Download puzzles files
Crayons, colored pencils or markers
Scotch tape
*Optional: Our Mess, God's Masterpiece video by the Skit Guys.   
OPENING GAME: Masterpiece Puzzle Race
Ahead of time, print out the Masterpiece Coloring pages and cut them into pieces based on the grid lines. Be sure to keep each pile of pieces separate. Set out your markers, crayons or colored pencils.
Divide students into two teams.
Give each team a pile of coloring pieces and a set of coloring supplies (crayons, markers, and/or colored pencils).
Tell them they will have three minutes to color all of their pieces for part one. When time is up, you'll tell them what part two is.
Play some fun music for them to color by. A great option that ties with this theme is to play the music video for Britt Nicole's song, "Gold."
You could also play the audio from one of the remixes.
When the song has finished, tell them they will now race to be the first to assemble their pieces into one masterpiece.
Ten points go to the team who has their masterpiece assembled first, with every piece in the correct location.
There are also twenty bonus points available: 10 for naming the work and 10 for naming the artist.
Play a fun song or video while they assemble their masterpieces, like TobyMac's "This Is Not a Test".
*If you use social media, take a picture of each team with their assembled masterpiece to share online. You can also show on screen a copy of what the original masterpieces look like: Mona Lisa and Starry Night
TEACH
Ask: How many of you consider yourself "artistic"? You can draw, paint, etc.
(allow students to respond)
I believe I could make the argument that all of us are artistic in different ways, but I understand how some of you may feel more artistic than others.
How about this question: How many of you like a fresh start? It could be a new calendar year, a new school year, a new season – regarding weather or sports – or even just the start of a new week?
(allow students to respond)
There's something fun and exciting about fresh starts.
Now, what do old paintings and fresh starts have to do with life as a preteen? Let's go to the Bible to find out.
Open your Bibles to the book of Ephesians. It's in the New Testament, just after Galatians and before Philippians.
Whether you are using a paper Bible or a Bible app, you should know how to find this book. There are lots of good teaching in this short book. Once you find Ephesians, go to chapter 2. Then find verse 1. (Once everyone has time to find it, have a student read Ephesians 2:1-10.)
"Once you were dead…" (Ephesians 2:1-3)
Not a very encouraging way to start out a chapter, is it? I mean, I guess it's good that we're not dead anymore, right? Looking at these three verses, Paul is writing to people who used to live very differently than they do now. It sounds like they made a bunch of goals in changing their lives and have seen transformation in their everyday lives!
Circle the word "you." That's who these verses are all about.
He says, "You used to live in sin…" (Ephesians 2:2, NLT). In fact, he says, "All of us used to live that way…" (Ephesians 2:3, NLT). So Paul is the author of this book. He is writing to a group of Christians at a church in Ephesus. And as he opens up the second chapter, he points out that both he and his audience used to live in a way that went against God's teaching.
"But God…" (Ephesians 2:4-7)
While verses 1-3 are all about "you", verses 4-7 are all about God! Look!
2:4 "God is so rich in mercy"
2:4 "he (God) loved us so much"
2:5 "he (God) gave us life"
2:5 "he (God) raised Christ from the dead"
2:6 "he (God) raised us from the dead"
2:7 "his (God's) grace and kindness towards us"
Paul wants to make sure we understand something. On our own, we pretty much make a mess of things.
God, on the other hand, does all the work of fixing things.
And just in case we were slow learners, Paul makes things abundantly clear in the final three verses of this section.
Ephesians 2:8-10 (NLT)
"God saved you by his grace when you believed. And you can't take credit for this; it is a gift from God. Salvation is not a reward for the good things we have done, so none of us can boast about it. For we are God's masterpiece. He has created us anew in Christ Jesus, so we can do the good things he planned for us long ago. "
God did the saving. He turned that into a gift he offers to people who don't deserve it instead of some kind of reward we should try to earn and then brag about.
And then Paul does something strange. He goes from describing the works of God to describing a specific work of God: people, specifically Christians. They are described as being a "masterpiece."
And we are not just some work of art for people to visit in a museum. We are living art! He has good things planed for Christians to do!
"We are God's masterpiece."
So as we finish today, you have a lot to think about and a few different scenarios you might find yourself in.
Some of you today are interested in God but haven't become Christians yet. The Bible says you were created in God's image. In other words, you display in your life characteristics that resemble God. That goes all the way back to the beginning of the Bible! (Genesis 1:26-27) You have to decide if you want to become a masterpiece. It has nothing to do with your artistic ability or how you see yourself. Remember, in verses 1-3 Paul made it clear what a mess all of us- even me – make of our lives. But verses 4-10 made it clear how much God loves us and wants to transform us from a mess to a masterpiece.
Others of you have become Christians, but you are kind of like a masterpiece in a museum. In God's eyes you are amazing, but you aren't doing anything!
Paul reminded us and taught us that God transformed us when we became Christians into people with a purpose! He wants us to be doing the work He planned for us! So some of you need to find a way to get involved doing God's work!
And finally, there may some of you – whether you are a Christian or not-yet – who need this time just to pause and understand how much God loves you.
Maybe you've had a hard home life. Maybe you get bullied at school. Maybe this year has just been a tough year and you would love a fresh start.
No matter what your situation is, understand the truth that God loves you more than you can imagine. And His love for you is not something you earn or deserve.
He loves you because He created you with His characteristics and when He sees you, you remind Him of Himself.
Let's work through this more specifically in our small groups today.
SMALL GROUP DISCUSSION QUESTIONS
How many of you enjoyed coloring those papers?
Were you surprised at the picture your group made when you put all the pieces together?
If we look at those papers without realizing they go together, they kind of look like a mess. But when we put them together in the right order, they resembled a masterpiece! How is that similar to how we might see our lives compared to how God sees them?
Why do you think Paul wrote so specifically and repeatedly about how all the fixing and good things come from God?
Do any of you who have become Christians want to talk about why you made that decision?
Why is it important to see becoming a Christian as receiving a gift instead of earning a reward?
Have you ever thought of yourself as a masterpiece? How does that change your self-esteem and self-worth?
I've seen a walking taco, but I haven't seen much living art. What is the difference between just "being" a masterpiece versus a masterpiece who "does" God's work?
How might this week/semester/year/school year be a good opportunity for you to try something new?
If any of you want to talk about making that decision to become a Christian, to receive God's gift of grace, I'd love to talk to you more about that too.
TEACH WRAP-UP
I hope you had some good conversations in your small groups!
I don't know about you, but I like the image of God taking our mess and turning it into a masterpiece.
*Optional: This would be a great time to play the "Our Mess, God's Masterpiece" video from the Skit Guys.
"For we are God's masterpiece. He has created us anew in Christ Jesus, so we can do the good things he planned for us long ago."  (Ephesians 2:10, NLT)
Let today be a new day where you see yourself through God's eyes, a masterpiece! And once that truth sinks in, then get busy! God has work for you to do! After all, there's a world of people out there making a mess who could be making a masterpiece! Let's go help them know and live out the good news about Jesus!