Preteen Lesson – God's Love (Crossy Road Game)
Why this Lesson Is Awesome: from Nick
Watch this video to find out why this lesson is so awesome and why the preteens in your ministry need to hear it.
Preteen Lesson – (God's Love) Crossy Road
DOWNLOAD THE PDF OF THIS LESSON
Bible Verses: Romans 8:35-39, Isaiah 40:28-31
Bottom Line: God's love is everlasting, and we can never be separated from it.
SUPPLIES:
GAME
Blindfolds
Upbeat music to play
TEACH
YouTube clip ready: https://www.youtube.com/watch?v=GfWO6dEnbJE
Paper and pens for students
Two broom sticks tied together with a long rope so they cannot be separated. Then wind the rope around each broom stick (covering the knots) and down the length of the poles, making it look like the sticks are just held together by the winding rope.
SMALL GROUPS
Pen and paper for each preteen
OPENING GAME: CROSSY ROAD LIVE
How to Play Opening Game
You will need a large playing area for this game. Divide preteens into two groups and have them line up on opposite sides of the playing area. The area in between them is called the road.
For each round, one group will be the traffic and the other group will attempt to cross the road.
As the second team tries to cross the road, the first team will walk, run, crawl, skip, or whatever they choose back and forth across the road trying to run them over. This is called road traffic. Road traffic cannot speed up or slow down once they start across the road.
Leaders will be spread out on the road as obstacles. Players will be able to stop next to them and be safe before they move again.
Once a player runs into traffic, they are eliminated.
Continue until everyone is eliminated and then switch teams – the traffic team now crosses the road and vice versa.
Note: If you have a smaller group, have one preteen at a time cross the road.
Optional Variation
Each player chooses a partner when it is their group's turn to cross the road. The player will then be blindfolded at the start line and their partner will be the one giving them directions to get across the road. Each team will be timed and their distance logged. The team with the best time and distance will win a prize.
TEACH
After the game, say:
Who has played the game Crossy Road before? And who ever thought that making this game come to life would be so fun? For those of you that have not played it before, let me give you a quick rundown of the game. Or better yet let me show you.
Play the following clip: https://www.youtube.com/watch?v=GfWO6dEnbJE
So as you can see, this game is all about getting as far as possible without getting hit by a car or train or truck, falling in a river or if you wait too long, being carried off by a giant eagle. The really cool thing about the game is that no matter how may time you mess up, you get to start over again.
As fun as it was watching you all dodge the traffic, it gets me thinking about some other cool stuff. Stuff like how this game is a lot like our walk with Jesus. It makes me think about the things in this world trying to knock us down and how God loves us, no matter how many times we mess up.
So let's take this idea and run with it today.
Open in Prayer
Open you Bibles to Isaiah 40:28-31 Will someone read it out loud?
Isaiah 40:28-31
Have you never heard?
            Have you never understood?
The Lord is the everlasting God,
            the Creator of all the earth.
He never grows weak or weary.
            No one can measure the depths of His understanding.
He gives power to the weak
            and strength to the powerless.
Even youths will become weak and tired,
            and young men will fall in exhaustion.
But those who trust in the Lord will find new strength.
            They will soar high on wings like eagles.
They will run and not grow weary.
They will walk and not faint.
Excellent job everyone. Some of these were a little harder to understand, but as more of the idea was explained it became clearer, right? And how awesome is it that the game shows us great examples of each of these?
Everything we just read points to this:
If we trust in the Lord, He will give us strength, energy, and understanding.
God's love never ends and never goes away. When you mess up and ask for His forgiveness, He will always forgive you. You ask for His help to not mess up again, and He will give it to you. You start again trying to live a little more like Jesus.
This process is never-ending just like the Crossy Roads game never really ends; you just start over and work to get farther.
Let's look at another passage.
Have a preteen read Romans 8:35-39:
Can anything ever separate us from Christ's love? Does it mean He no longer loves us if we have trouble or calamity, or are persecuted, or hungry, or destitute, or in danger, or threatened with death? (As the Scriptures say, "For your sake we are killed every day; we are being slaughtered like sheep.")
No, despite all these things, overwhelming victory is ours through Christ, who loved us.
And I am convinced that nothing can ever separate us from God's love. Neither death nor life, neither angels nor demons, neither our fears for today nor our worries about tomorrow—not even the powers of hell can separate us from God's love. No power in the sky above or in the earth below—indeed, nothing in all creation will ever be able to separate us from the love of God that is revealed in Christ Jesus our Lord.
I need two volunteers to come up on stage and try and separate these two poles.
Bring out the two poles you have connected with the rope. Once they get the roped unwrapped have them pull the poles as far apart as they can.
No matter what you did, you were never going to be able to separate these things completely. You thought all you had to do was unwrap the rope but when you got to the end they were stilled tied together, and you can't untie the rope.
God's love is the same. We can do things and mess up and can push or pull away from God. But NOTHING we do can ever completely separate us from His love.
The world we live in is constantly throwing things at us in an attempt to separate us from Him. In some cases the stuff being thrown at us is just a distraction to keep us focused on something else. Just like in Crossy Roads there are trucks, trains, cars, and all kinds of other things trying to run us over. What usually ends up happening is we get distracted by something that leads us to getting run over.
This is what we need to watch out for in the world – the distractions.
In your small groups you are going to talk about the distractions in your life that could pull you away from God's path or run you over as you walk it.
SMALL GROUPS
We are going to look at the things in our lives that can distract us from God's path.
Sit in a circle and pass out paper and pens to each preteen.
Come up with one thing that distracts you from God and write it in on your paper (no need to put your name on it). Once everyone is finished, fold your paper in half and give it to me.
For each round, we'll pass one paper with a distraction written on it around the circle. When I say stop, the person who is holding the paper reads out loud what's written on the paper.
Play one round. Then as a group discuss the distraction and ways you can avoid or handle it. Continue playing until you have discussed each of the distractions.
Optional: When you call stop, the person holding the paper with the distraction on it is IT. The other players should get up and run, trying to avoid being tagged by IT. IT will have thirty seconds to try to tag as many players as possible. When time is up, regroup and discuss the distraction on the paper.
After the activity and discussion, spend some time together as a group praying for each other to avoid the distractions in their lives.
Liked this preteen lesson? You will also like this Preteen Lesson on Attitude.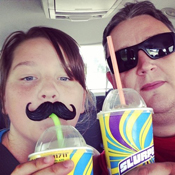 This lesson was written by Rob Quinn, who serves as the Preteen Ministry Coordinator at Community Bible Church in Brighton, MI. He has been involved with preteen ministry for almost 8 years now. Rob is married to an amazing woman Jodi, who just so happens to be the Children's Ministry Director at his church. They have one beautiful daughter Sydni, and an 8-pound attack dog named Lilly.